Single Color Dimmable LED Strip Light Solution
People always want to know how to make 25m 40m warm white / cool white led strip lights working synchronously,dimmable at the same time by only one remote control.  But normally it's hard to find a perfect solution, easy installation and suitable solution.
Day to day,12v/24v flexible led strip lights are welcome in the retail store,supermakket etc, and more and more people likes it because it's flexible,cuttable and energy-saving, you can use it everywhere you want to put, like TV back lighting, Cabinet lighting and Ceiling Lighting etc. From 1m 2m 5m to hundreds of meters,but most people confused about that how to solve this ?  Even some people know a little,but the effects is not so perfect because of the brightness are not the same from the beginning to the end….
Dont worry, friend…
OK, Now please kindly let me tell you all stuffs you need.
For Example:  40m warm white SMD5050 LED Strip Lights 14.4w/m 12V  Dimmable synchronously Projects for your hall lighting.
You need as follows:
40m   x  12v SMD5050  60leds/m   LED Flexible Strip Lights (Warm White)
1pc   x   LED Sync Dimmer ( 12V 25A 300W)
1pc  x Sub-control (12V 25a 300W, it's the same with the led sync dimmer,but without remote).
2pcs  x 350W Switching Power Supply ( why choose 350W ? because of prolong its life-span,we suggest to use 80% efficiency of power supply, so 350W*80%=280W, and the actual power for 20m SMD5050 10-12w/m,Max power 14.4w/m, 20M=288W Max, so 350W will be better for a long time).
Some nessary accessories,such as 5.5*2.1mm DC Male-Female Connectors for Power Supply & LED Strip Lights.
OK,That's all, when you get above these stuffs, the full solution is prepared well.
But it's too early if you think all is well …(similing),because the connection is very very important to this projects,in case of the different brightness from the beginning strips to the end.  PLEASE DO " Parallel Connection", NEVER " serial connection".
Please freely to check the following  connection images I took when testing.
IF any more question, welcome to inquiry via  Email: sales@mjjcled.com   at Mr Jerome Peng.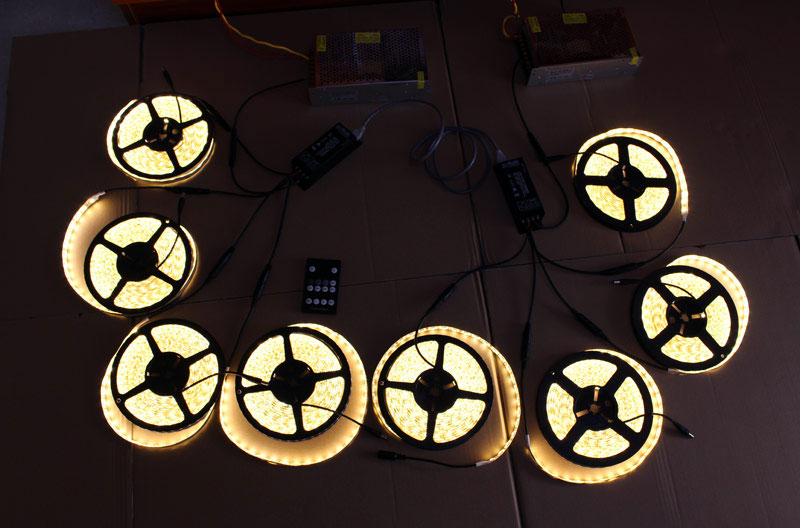 Comments Off

on Single Color Dimmable LED Strip Light Solution